Overview
Indigo Stripes is committed to provide the best possible human capital recruitment services while offering extremely competitive service fees to our clients. We will completely understand your needs and will strive to exceed your expectations. We will deliver quality work products on time and will keep our service promise.
Recruitment Services for US and India Markets
We truly believe that employees are the most valuable assets of a company so we like to call ourselves as Human Capital Recruiters. We specialize in recruiting Senior management and Middle Management for US market and India markets. Our domain expertise is in the following verticals in any industry
Finance
Accounting
Operations
Human Resources recruiting
Audit and Compliance Assurance,
Risk Management,
IT / ITES
Information Security
We will perform the following functions and the Indigo quality deliverables at each stage are also listed.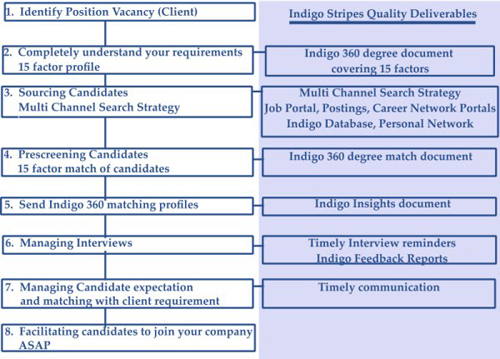 We will align our activities to your business competencies to:
Improve the quality of your new hires
Improve the efficiency and effectiveness of your talent acquisition process
Help you focus on other core activities that need your attention
Maintain quality and accountability in the recruitment process
Improve organizational speed, flexibility and agility to your recruitment functions
We will constantly keep you in touch so that you can have complete control over the recruitment process.
Please use the Clients page and send your inquiry and we will be happy to send you more details about Indigo Recruiting services.